Meltio Materials
Metal 3D Printing Wire
Meltio's Laser Metal Deposition process achieves exceptional material mechanical properties using single wire and dual wire. Choose the ideal welding wire for your application: unlimited third-party commodity material or qualified Meltio Wire Materials that secure the user experience.
Single and Dual Metal 3D Printing
Archive exceptional mechanics decreased thermal stress and near isotropic properties. Available in welding wire between 0.8 and 1.2 mm in diameter.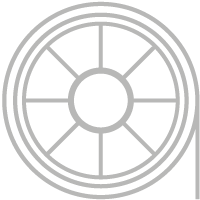 The bulk of the 3D printing process is built around wire, the safest, cleanest and easiest to work with metal feedstock.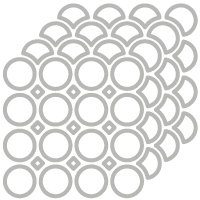 Meltio's LMD process produces fully dense parts with superior microstructure; reaching a consistent 99.998 % densification.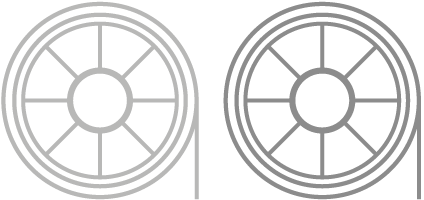 Combine different metal materials in a single part. The wire-switching process is automatic, quick and clean.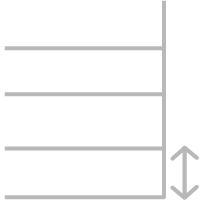 From 0.6 to 1.2 mm layer heights.
Under some conditions, Meltio's surface roughness using wire outperforms those produced with powder based processes.
Unlimited Third-party Material Choice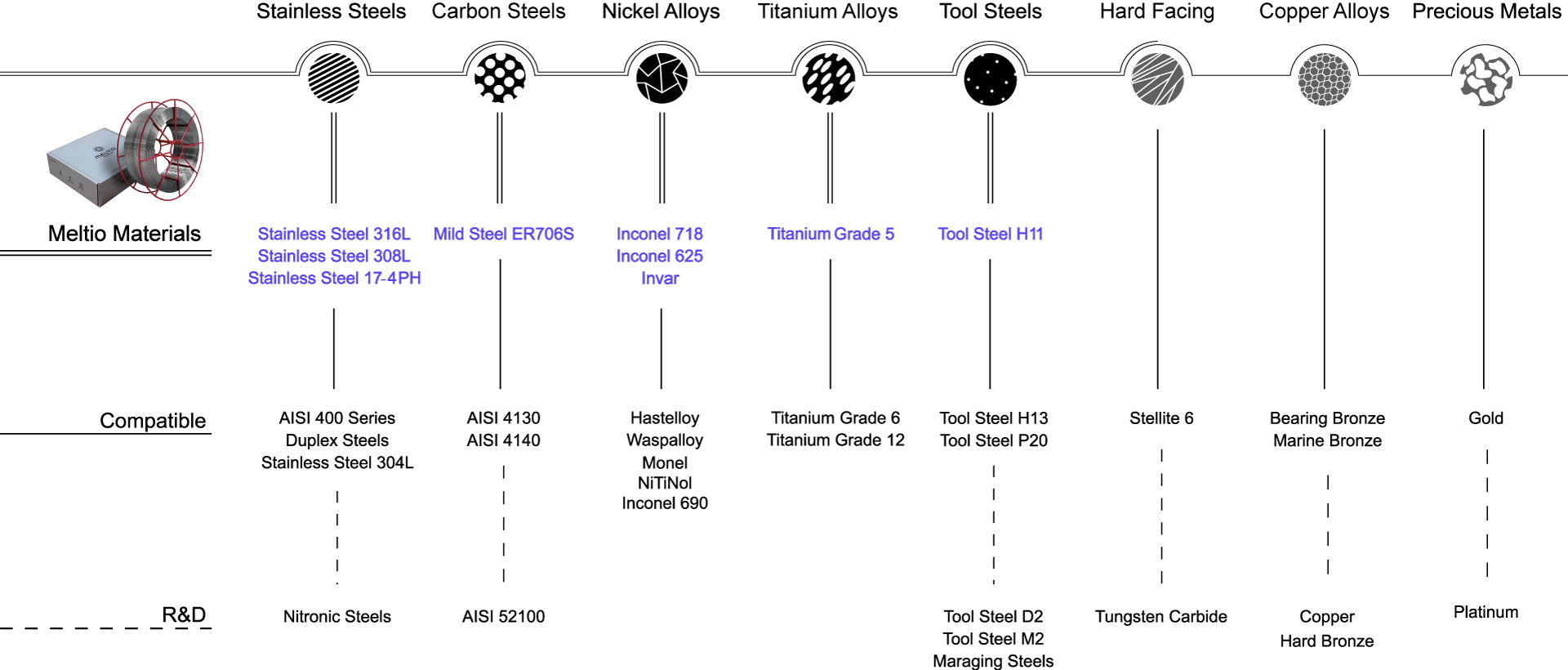 Stainless Steels:
Excellent strength and corrosion resistance.
Mild Steels:
Cheap and ductile, with unparalleled machinability and weldability.
Carbon Steels:
High impact strength, retain hardness at high temperatures.
Titanium Alloys:
Highest strength to weight ratio and corrosion resistance.
Nickel Alloys:
High versatility, outstanding heat and corrosion resistance.
First-Time-Right with Meltio Materials
Guaranteed part properties with optimized print profiles.
Mild steel with adequate mechanical properties and high ductility. Easily welded and machined.

Meltio Stainless Steel 316L
Highly corrosion-resistant grade of austenitic stainless steel with great mechanical properties. Ideal for marine and chemical applications.
Meltio Stainless Steel 308L
All-around stainless steel with adequate corrosion resistance and good mechanical properties.
Meltio Stainless Steel 17-4PH
A martensitic precipitation hardened stainless steel capable of achieving high hardness while offering excellent corrosion resistance. It is widely employed in the oil & gas, and aerospace.
A chromium-based steel alloy, it's one of the most commonly used tool steels, thanks to its outstanding impact toughness.

This alloy gets its name thanks to its extremely low coefficient of thermal expansion, from -250 °C up to about 200 °C. it makes an ideal choice for measuring equipment and cryogenic applications.
High-strength Alpha+Beta alloy with excellent fracture toughness, corrosion resistance and biocompatibility. Widely used in aerospace, marine, chemical and biomedical industries.
High-strength nickel-super alloy with a large working temperature range. Highly resistant to cracking while protecting well against corrosion.
Ni-based superalloy with excellent mechanical properties at a wide range of temperatures. It is an ideal choice for cladding or repair.
Metal 3D Printing Solutions
Turn-key Metal 3D Printer.
Meltio Engine
CNC Integration
Hybrid Manufacturing System.
Meltio Engine
Robot Integration
Large-scale Metal 3D Printing.
Turn-key plug-and-play Solution.
Wire-Laser Metal 3D Printing